The Swedish Mora clock has increased in popularity in recent years, as many people are attracted to this shapely and uniquely designed clock. If you want to make a visual impact with your clock selection, there is probably no better antique clock out there that can achieve this feat with such ease. The history of the Swedish Mora clock is also a fascinating look into how difficult times can inspire a creative outburst that has stood the test of time. If you are looking for antiques in Denver, learning about this extraordinary timepiece is worth your time.
History of the Swedish Mora Clock
The Swedish town of Mora experienced difficult economic times during the mid-1700's, as its agricultural and mining industries experienced trying times. As a result, the people of the town of Mora turned to clock making as a way to make ends meet. Throughout the town, families began to specialize in the production of making various parts for the clocks.
Traditionally a farming community, Mora townsfolk were drawn to this new industry as a way to supplement their income. Many residents of the region were poor at the time, thus why there were so many who decided to take up this unique trade and craft.
Whether it was the face of the clock, the mechanical interior parts, the wood long case or the exterior painting of the clock, Mora residents found their niche within this particular industry. At the height of its popularity, approximately 100 families in the town were involved in the production of making this treasured staple of time-keeping.
Throughout the province of Darlana, each individual area produced a different part of the clock. This process resulted in some very unique and creative clock designs that were a collaboration between residents of this particular part of Sweden. The clocks would first be sold without a case and then the person buying the product would ask locals in the area to make the wood case.
The sizes and shapes of the Swedish Mora clock also varied according to the region in which they were produced. Clocks that were manufactured in Northern Sweden were typically tall and slender, while clocks that were produced in Southern Sweden were usually fat and were accentuated by exaggerated curves.
Estimates by Gunnar Pipping state that more than 50,000 Mora clocks were produced throughout the 19th century. During the height of its production, there were around 1,000 Mora clocks being made each year. Over time, competition from Germany and America would lead to the demise of this once burgeoning industry for Mora. What was once a lucrative market for Mora in the 18th and 19th century became impractical and no longer profitable. Now, the clocks made during that era are prized as cherished antiques, still adding charm and function to today's modern home. 
The Look and Feel of a Mora Clock
Mora clocks can come in a variety of shapes in sizes
, and speak to the personality of the person that created it. These clocks are generally known for their tall and slender appearance, and are able to fit into tight spaces much easier than English clocks of a similar style. This is due to the fact that Mora clocks are shallower than the English variety.  
In terms of their size, Mora clocks are approximately 8 to 12 inches deep, 20 to 28 inches wide, and 70 to 99 inches tall. The face of the clock tends to measure about 19 inches in diameter. The numbers and minute markers on a Mora clock are one of the clock's decorative elements, and were usually painted on in black paint.
The design of a Swedish Mora clock is classic and, ironically, timeless. Each Mora clock has its own individual personality, and has been handcrafted to create a truly unique piece for your home. The history creates a depthness of character that is unparalleled by any other piece.
Adding a Mora clock to your home can add a layer of history to your living space that makes the process of entertaining guests fun and informative. Your Mora clock won't just be a decorative piece, it will also be a story waiting to be told to those lucky enough to hear it.
Types of Mora Clocks
Mora clocks come in a variety of specific styles, which is helpful when deciding which Mora clock would work best in your living room. Each style category has unique distinguishing characteristics, giving you a diverse selection from which to choose.
The Fryksdall are clocks that have a wider belly with a pinched waist, and also have exceptional hood carvings on the unit. Typically, these clocks come in white and greys, and were usually owned by wealthier individuals.
Country clocks were typically more plain in appearance and had less decoration. They came with simple hood crowns and using much less glass than their counterparts. These were usually the prized possession in poorer families, and were often given as wedding gifts.
City clocks were those that had a much finer level of decoration. These usually included painted finishes that made a strong statement stylistically, and would also set them apart from other varieties.
Bridal clocks were those that were more odd and unusual than the rest. These tended to originate from Jamtland, and had a very fine level of decorative carving on them. In fact, they are likely the finest clocks in terms of the level of craftsmanship.
Scandinavian Antiques is happy to assist you in finding the most appropriate Swedish Mora Clock for your modern household. We will make sure that aside from adding beauty, the clock will work to your specifications whether you choose to have the orginal works and chimes restored or opt for the ease of a battery function eliminating the need to wind and set the clock weekly. Our team of qualified associates are dedicated to delivering the best customer service in the industry, and are delighted to help you bring this antique timekeeping centerpiece into your home. We typically have aproximately 10-20 Mora clocks available at any given time, and import directly from Sweden throughout the year.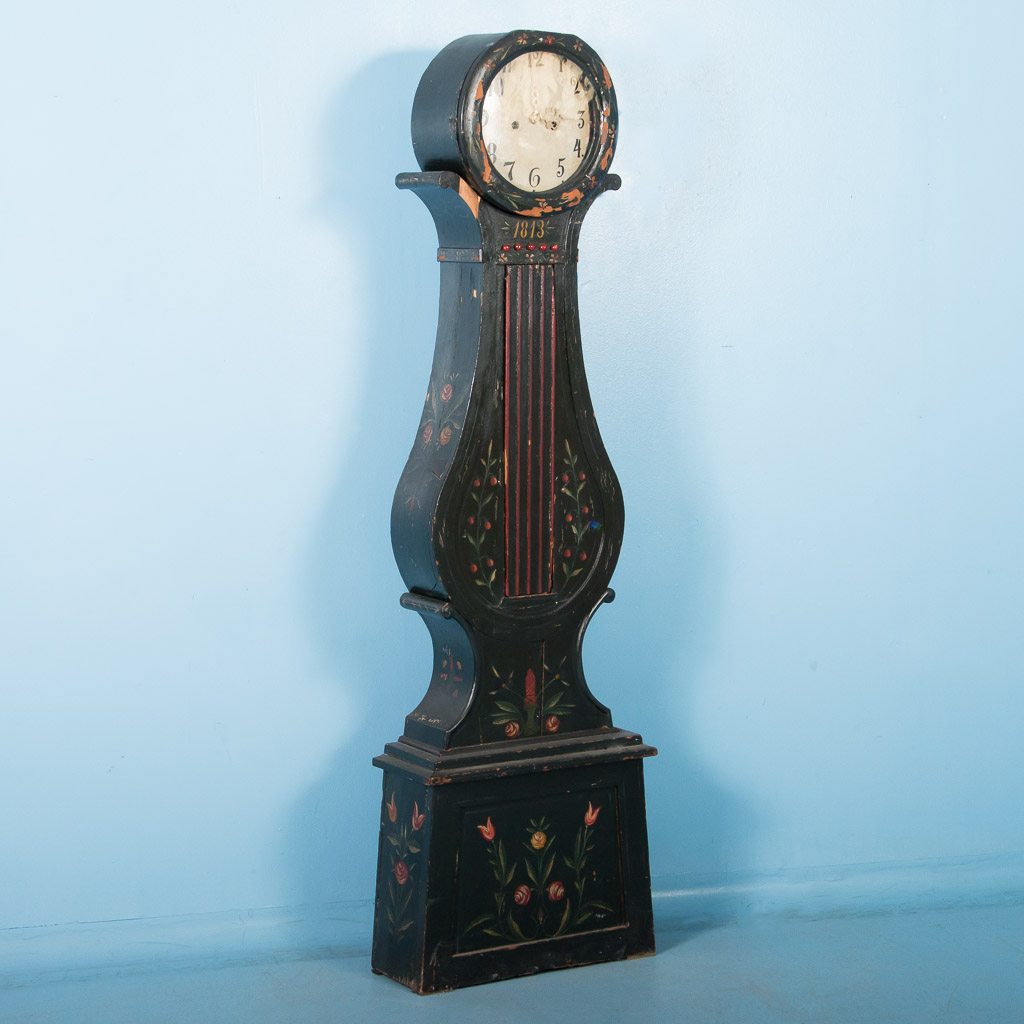 Our owner, Henrik Follin, was born in Sweden and has worked with original Mora clocks over 30 years as an antique wholesaler. With over 24,000 sq ft in Denver of European antique furniture inventory, you wil not find a greater selection anywhere. Our team's attention to quality and detail is accentuated by our 2,000 square foot studio, where our craftsmen work to restore the integrity of our antiques. If you are interested embarking on a journey to blend the past with the present,
contact us today!